Speech and Language Therapy Services
More than 1.4 million children and young people in the UK have speech, language and communication needs (SLCN). Language disorder alone is one of the most common disorders of childhood, affecting nearly 10% of children and young people everywhere throughout their lives.
Children and young people with speech, language and communication needs may struggle with any aspect of communication, such as making friends, learning and developing skills which are crucial to success in adulthood. As a result, unsupported children with SLCN may display challenging or withdrawn behaviour, and suffer profound lifelong consequences without sufficient input.
Common signs of communication difficulties you should be aware of:
Struggling with putting words together to make sentences
Difficulties with pronunciation
Poor play/social skills and difficulty making friends
Difficulties learning to read/write
Playing with toys appropriately
Struggling to listen
Difficulties making friends
Struggling to find words
Struggling to construct long sentences
Appearing quiet or withdrawn
Struggling to keep up with their schoolwork
Our therapy programmes and training are designed to effectively target the following areas: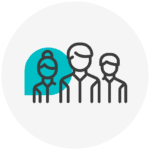 Universal: Focus on establishing supportive communication environments at home and in school, thus providing consistency.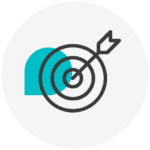 Targeted: Create bespoke therapy sessions for individuals or groups, either as a single occurrence or ongoing input. We can also train parents and staff to deliver these programmes.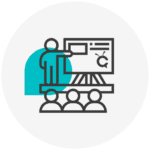 Specialist: We actively promote quality-first teaching and can conduct a full or part audit of your staff and school environment to help tailor our programmes to your needs.
Our Services
At ChatterBug we continue to seek ways in which we can make a difference to the lives of children with Speech, Language and Communication Needs (SLCN). Our services are never pre-packaged and we work closely with schools and families to develop a personalised plan for each individual child we support, based on their needs, interests and the most up to date evidence and resources available. From one-to-one therapy to bespoke training programmes for staff and parents, ChatterBug offers specialist support for paediatric communication problems.
Training Courses
We have a range of in-house training courses and workshops that are unique to ChatterBug including Colourful Semantics, How to Support Children with DLD, Selective Mutism and more. We also provide ICAN accredited courses such as Early Talk Boost and KS1 Talk Boost. Our in-house courses are developed by our expert SLTs, these programmes are designed to help raise awareness, teach valuable skills and share knowledge, and ultimately provide your staff with the confidence to support individuals with SLCN in your setting.
Online Telehealth Assessment and Therapy
Telehealth allows students and therapists to interact via tablet, laptop or phone and carry out their normal sessions and activities in a comfortable environment. We use this approach to deliver the same engaging input and effective Speech Therapy sessions online, meaning that no child misses out. It is a great way to build strong connections and We have found that many children are more motivated to engage in therapy knowing they'll be using a device in a unique way. These sessions can be undertaken in a wide range of locations to suit the needs of the client including home and school.
Triage Service
If you are unsure as to whether autism could be a concern for one of your students or you have a number of students you are concerned about, our triage service could be the ideal first step. Costing just £50, this service consists of questionnaires to be completed by yourselves and parents/carers which are then reviewed by our Specialist Speech and Language Therapist. We can then advise on whether we feel a screening or full autism assessment is recommended. Alternatively we may suggest other, more appropriate support/assessment services.
If you already have students in your setting with an autism diagnosis, we also offer a range of post-diagnosis support packages, supporting children and young people to fully understand their diagnosis, explore useful strategies and develop their communication skills.
Face-to-Face Assessment and Speech Therapy
Our philosophy is to place the child at the centre of our care and set targets working in close collaboration with schools and parents. We work with your setting and pupils to deliver face to face therapy in an environment that the child is comfortable in and we work seamlessly with them and your staff. We listen to each individual and we build a service around what works for them, their parents and carers for their needs. We have a transparent way of sharing and working collaboratively with putting the child in the centre, and we work with everyone in that child's circle to set targets and goals for them, which makes us unique.
AAP
Our Autism Assessment Panel service works with individuals who have a range of difficulties which are impacting their language and communication and/or social interaction. This type of assessment is appropriate for children and young people where a diagnosis such as autism or social communication difficulties is being considered. In order to fully assess individuals with complex communication needs, our Multidisciplinary team consists of multiple healthcare professionals who follow the NICE guidelines (National Institute for Health & Care Excellence) to provide diagnosis and appropriate follow-up treatment options as required. Our team will work together to gather all the information they need. This will include a detailed case history and discussions with you and your child, observations in clinic or school and appropriate formal and informal assessments to provide a holistic assessment.
Group Therapy
We offer small group therapy/intervention within your setting or ours. Our speech and language therapists will deliver these group sessions using fun and encouraging activities that are specific to the child's age, development and needs. We focus on every individual and they will also receive an individual report which will be shared with parents, senco's and the appropriate bodies to carry out bespoke intervention and design strategies in school or at home to support the individual. Children leave these group sessions with better speech and language skills making it easier for them to build relationships and confidently communicate with their peers and adults.
Intervention First Service - CALS Service (Communication and Language Specialists)
Our CALS (Communication and Language Specialists) are highly skilled and have a background in education or speech and language therapy. They have advanced knowledge and expertise in delivering a range of Speech and Language Interventions in your setting. With our CALS service, we can screen children to identify the best course of action for input from day one. Our CALS are able to screen 8-10 children per day! This is an ideal option for schools that want to focus specifically on intervention and increase their capacity to deliver a wide range of Speech and Language Interventions both at the targeted and specialist level.
Comunication Friendly Environment Audit
If you are interested in making sure that your school is facilitating communication development for all pupils at the universal level both through the physical environment and quality first teaching then a whole school Communication Audit may be an option you wish to consider. This audit is undertaken by our specialist team who will meet with the school community and carry out a series of observations to fully capture how your setting supports/facilitates communication at all levels. A detailed report with recommendations is provided at the end of the audit to support you in creating a development plan.
Transitioning groups for year six pupils
Transitioning from primary to secondary school is a particularly significant change for children especially those with SLCN can find this daunting due to unfamiliar building, new peers, new teachers, unfamiliar settings, new routines and increased demands and volume of work resulting in potential anxiety for the new students and their parents. We prepare children for the transition, acknowledge how they feel and help them gain skills to find solutions or strategies to manage this. This involves but not limited to: addressing pupils' concerns about the transfer, to teach vital skills that will be required in a secondary environment to help with planning and organisation, to provide some strategies for problem solving and to develop social skills with a particular focus on building new friendships and identifying and dealing with bullying.
Medico-legal Assessments
Our team can provide a specialised medico-legal reporting and assessment on any area of SLCN for children and young people to suit the needs and requirements of the client and the report. We often provide these reports for Special Educational Needs and Disability Tribunal (SENDIST) and include a comprehensive and detailed report that includes medical notes, assessment and diagnostics, findings, diagnosis and recommendations for therapy. We have great experience in working with solicitors, case managers, educational specialists and pediatricians to help our clients achieve the results they are looking for.
EHC Assessments
An Education, Health and Care (EHC) plan focuses on outcomes that are important to the child/young person who requires education, healthcare and social care needs and provision. The plan is person-centred and ensures that all key people are involved in all aspects of the decision making process. This report is created collaboratively with the child/young person and their parents discussing the SLCN provision needed. The assessment will cover the provision required to meet the education, healthcare and social care needs, and the outcomes expected to be achieved by a child or young person.
Initial Assessments
At ChatterBug we have qualified and experienced speech and language therapists who carry out a range of assessments of your child's speech and language skills and difficulties. All assessment activities will be age appropriate and designed to obtain a true reflection of the child's speech, language and communication skills and needs. This will help our therapists to help determine what areas of the child's SLCN has been affected. This will allow us to make the recommendations about the best course of action that will be for your child.
Coaching and Modelling Sessions
We can provide a wide range of care plan/ therapy programme modelling sessions. All of our Care plans are written with individual children's needs in mind and can be modelled to parents, teachers and nursery leaders, ensuring consistent, high quality support in all of your child's main environments. We work collaboratively with your setting, understanding your role in providing a supportive language and communication environment and plan the right intervention input across a continuum of universal, targeted and specialist levels as well as the outcome measurement of our commissioned education services. These plans will help shape a child's ability to learn, develop friendships and their future life chances.
Direct One to One Therapy
Direct one to one speech and language therapy is an effective intervention approach to individuals that can take place in a setting that suits you. This involves our expert speech and language therapists working on a one to one basis with your pupil/child, whilst working closely with schools and families to develop a bespoke plan based on the individual needs and interests to better support them. This direct approach can be delivered face to face or via our telehealth service. 
Feel free to get in touch with us. We're here to help you. You can reach us by phone, by email or by filling out the contact form below. We will get back to you as soon as possible.
Get access to exclusive news about upcoming courses, news and advise about speech, language and communication needs.